I know, I know. Another extended absence with no word from me. I PROMISE I'm going to get mom to let me on the laptop more often to update you on life on the road. But first up I wanted to share this inspiring interview with Fiji, of Fijipaw.com and her mom Jasmine who are BIKING all over the place. I know, crazy right? First a few words from mom Jasmine and then we'll jump right in with Fiji's interview.
Please offer up a short blurb about who you are? Age? Who else is in your family?
My name is Jasmine Reese. My travel companion and furry daughter is Fiji Reese. I am a long distance cycling, violin playing vagabond who embarked on a round the world bicycling journey one year ago. In 2013, Fiji and I also crossed the U.S. together, starting with only $50. Now, I we have traveled over 14,000 miles together through a combination of boats, hitchhiking and cycling around most of North America. My theme for my adventure is majorly about facing fears and pursuing dreams. My bucketlist is to learn and play violin all over the world, so I've been meeting with musicians and sharing music along the way, while also using street performance as one way to fund my travels. I am 28 years old, and my mom and little brother live in Indianapolis, IN.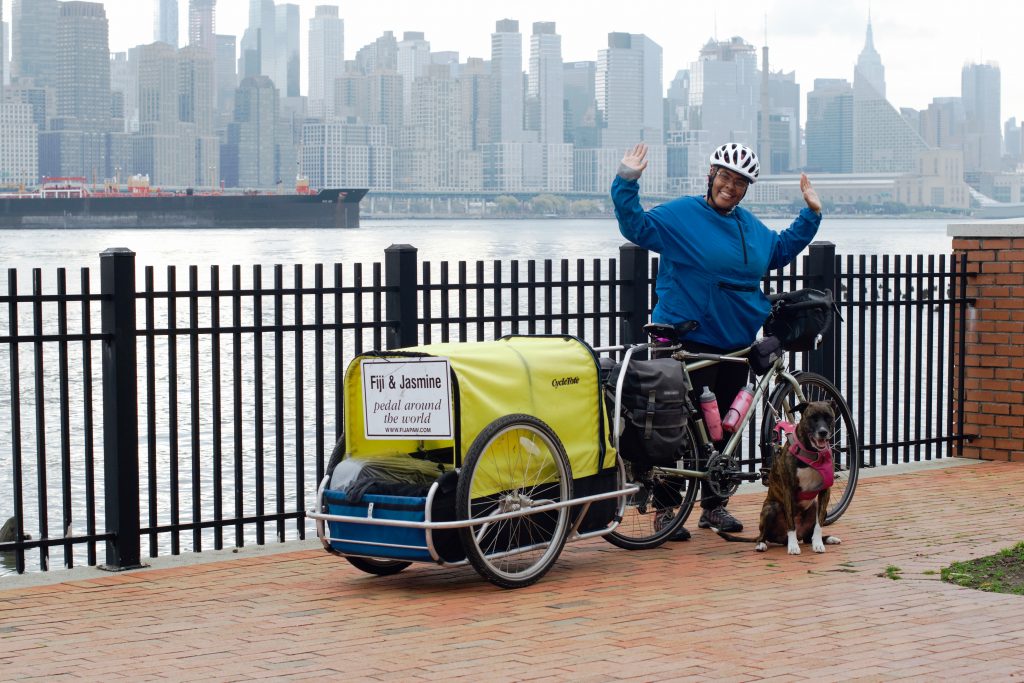 Tell us a little bit about where you have traveled with your family. Have you traveled internationally? Within the US?
I haven't been overseas, yet. We did cross Canada last year. It took five months. Now, I am currently working on getting the proper requirements taken care of for Fiji and me to get to South Korea. After that, I plan to head to Japan, Russia, Europe, Africa and South America.
What is your favorite place to travel? Do you like hiking the mountains? Running on the beach?
I don't have a favorite place to travel because everyday I am discovering something new. Every place has something unique to offer, not just landscape-wise, but also in culture, history and community. Of course, being a nomad especially on bicycle means packing up and leaving every day, so adaptability as well as seeing the beauty in every situation is imperative to living the sometimes stressful life of having no home base. However, if I am to generalize, I do like places that offer flat roads, but some of my fondest memories are those long grueling days pedaling or pushing my bike up nasty mountain passes.
When you're traveling do you camp? Stay at hotels? Rent houses?
I mostly stay with people via website such as warmshowers.org, couchsurfing.com, and workaway.info. I also sometimes just ride into a town, meet some really nice people and am invited to stay in their homes. When none of that happens, then I am either camping or staying motels either super cheap or free through sponsorship. I travel with very little money, so a hotel is not in the budget, for sure.
Do you have a hard time finding good quality food and water on the road?
For myself, I think I struggle with not wanting to add the extra weight of food on my bicycle. Therefore, I will turn to unhealthy, quick options on the road. However, I've been mostly spoiled while on the road. Super kind people are always feeding Fiji and me. If someone begins a conversation with us about who we are and what we're doing, it always ends with "let me get you some food and water." Sometimes, I am well-stocked on food and water, but people are still stopping on the side of the road and literally leaving food and water on the shoulder for us. It's heartwarming, but it also means outside of the generosity of amazing people, I haven't truly gotten the whole food packing and scavenging down. It's a work-in-progress, and I know I have to learn because there will come a day when there are no people around, especially in countries such as Russia which have very sparse areas ( at least that's what I am told). As far as Fiji goes, she's always well-fed through a number of individual sponsors. I have always been able to find her food or have it sent to me. I will buy her food for the most part, and usually carry about 14lbs which is heavy for a touring cyclist. I also two ten liter dromedaries for water. But I rarely have to use them.
Have you had any problems with other dogs, either playing at dog parks, or street dogs when traveling?
We've been chased by about 70 dogs over the course of our travels. Some aggressive, some just fascinated with the bicycle, some wanting to greet Fiji — I've never been bitten and Fiji's never engaged in a fight with any. I credit this to keeping calm, stopping the bicycle, using the bicycle as a barrier, and being assertive with the dogs. They've all responded positively to this method without use of pepper sprays or other weapons. Continuing to pedal or running scared, in my experience, only makes the dogs pursuing you more excited and aggressive. And the way I see it, I'll never pedal fast enough to outrun a dog, so I just stop and calmly confront them.
What don't you like about traveling? A different bed? Strange water?
I don't get attached to places, but I do love the people I meet. It's sad to leave them behind. Also, the insecurity of not knowing where to sleep, what to eat, and where to go gets a bit stressful, especially when it's down to the wire. For example, I arrived late into Amherst, Nova Scotia. It was about 10 minutes to sundown, and I didn't have a place for us to go. It was cold, and I don't have light on my bicycle. Setting up a tent would have been hard in the dark. It was the first time I had miscalculated my arrival, but that's because the time has just fallen back; I didn't take into account shorter days. Thankfully, a man who was grabbing something from his car in his driveway saw us, and I asked him if we could camp in his yard. His wife came out to greet me; they discussed. In a few minutes, we were cozy in their garage apartment! The Universe has a way of coming through for me at the last minute, so I try not to worry, but every once in a while, I still get a bit stressed even though I am used to this lifestyle by now.
Thanks Fiji & Jasmine for being such an inspiration for myself and others dogs out on the road.
Happy Tails~
Aspen