Happy New Year! First of all, I apologize for my long absence. My time at Lake Atitlan was wonderful, but aside from daily freaking out over the never ending bombas being blown off, the day to day was mostly a bit of a non-event. Oh, life was good with lots of hiking the footpaths, swimming for coconuts, and going to San Juan and San Pedro with mom & dad for lunch or shopping, but our day to day routine was pretty set.
Now we're back on the road an IN MEXICO. I know, believe me I know. We are supposed to be heading south right? Well, mom and dad seem to have some navigational issues, but I can't complain because I love it here!
I am super excited to share this interview with you. Although I have never met Kaylee, I spent several days with her mom and dad, Ben & Emma, when they stayed with us a couple of years ago. At that point they were just heading out on their long roadtrip and didn't have a dog. Poor souls. I was glad to see that by the time they got to Guatemala they rescued a sweet pup and now are a complete family. Hope you all enjoy her interview as much as I did.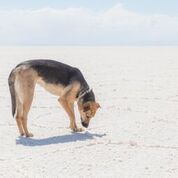 Please offer up a short blurb about who you are? Age? Who else is in your family?
Hi, I'm Kaylee, I travel with Ben and Emma. These two strange 'Kiwis' abducted me from my roadside trash bag in Guatemala a year ago.I just had my first birthday party recently. Birthday parties are like regular dinners, but with cake. It turns out I like cake… although, it tastes suspiciously similar to dog food. I just don't know why people insist on setting it on fire. Weird…
Tell us a little bit about where you have traveled with your family. Have you traveled internationally? Within the US?
We've been visiting a lot of places. I was born in Guatemala. I met my family at my trash bag near Antigua. We've been traveling together since then. Now we're in Chile. Apparently I'm going to New Zealand soon. I've been told that New Zealand is full of Kiwis, so hopefully they all give out as many belly rubs as the two that abducted me.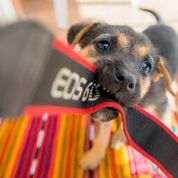 What is your favorite place to travel? Do you like hiking the mountains? Running on the beach?
I like visiting all kinds of different places. My favorite places are anywhere where I can eat rubbish or roll in poo and chase things. While I do love the beach, I hate the giant, salty death-puddle that tries to drown me every time I get close. There are plenty of reasons that I enjoy the beach though, friendly street dogs, a giant sand-pit to dig in, children to chase, gulls to harass, stinky dead fish to roll in, seaweed to wear in my fur. It is a magical place. I just think it would be more fun without the water. Really, I'm not fussy, I like most places my family visits. Towns are a bit boring and way too noisy, but they are full of delicious rubbish to roll in and so many friends. I feel most at home in the mountains though, with wide open spaces to run in and no salty death-puddle or crowds. Also, mountains have llamas. That is a real selling point. They are like big woolly dogs that run away when you bark at them. The cool thing is that we get to go to so many different places. My family have a magic 'car' kennel. We all climb in, all sorts of different smells go past the window and then *bam* we're in a new place. Sometimes it's a beach, a river, desert, the jungle, or a big stinky city full of friends.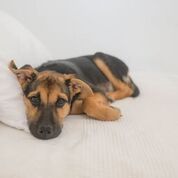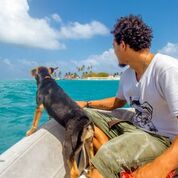 When you're traveling do you camp? Stay at hotels? Rent houses?
We stay in all kinds of different places. Sometimes I sleep in the roof tent, other times on luxury hotel beds or on the
couch at a rented house. I also have my own 'casa' which my family brings to different places so I have somewhere comfy
to sleep wherever we are.
Do you have a hard time finding good quality food and water on the road?
I always find delicious food to eat. Especially in Bolivia there were heaps of free chicken bones on the ground. My family said I shouldn't eat the free chicken bones. I'm suspicious that they just wanted all the bones for themselves. My family also disapprove when I try to eat rotten leftovers from around rubbish bins. (It's hilarious to to watch them run over waving their arms and calling me when I roll in the rotten food too…) They keep trying to feed me these horrible dry 'biscuit' things. I can't believe that they keep buying that crap. They try to make them taste better with fish, chicken and gravy. But there's no fooling me, I know the best food to be found is in trash heaps. I've been able to try plenty of new foods while we travel. One time I ate so much lobster that I got sick on a boat. Apparently you shouldn't eat the pointy bits. Who knew. I know that if someone nearby lights a grill all I have to do is go and ask nicely and I will get a delicious, free dinner. There is always fresh water wherever we go. Although one time I drank some salty water in Colombia and it made me sick. I told you the giant salty puddle is evil. The best water is in the giant water bowls that some hotels and hostels have in their gardens. I hope one day I get to meet the giant dogs these belong to.
Have you had any problems with other dogs, either playing at dog parks, or street dogs when traveling?
Street dogs are my favorite, I've made so many awesome friends when we travel. The only problems I've had are with dogs that people keep captive in their houses. It turns out these guys aren't always friendly like street dogs. One or two of them have bitten me— I don't think it was a game either, they seemed pretty grumpy and it kinda hurt. But my family shoed them away and gave me cuddles and tuna. So all was well.
What don't you like about traveling? A different bed? Strange water?
I love my life of adventure, I don't normally miss my trash bag at all, but there are a few things I could do without: Windy, bumpy roads. It is so hard to get my beauty sleep in my car kennel when my family insist on driving around on bumpy and windy roads. Leaving my friends. I have made so many awesome friends while we travel, it is always sad to leave my new friends. Bath time. I hate it when they clean me, although at least it means I get to go out and roll in poo all over again. So that's fun.
Thanks again to Kaylee for sharing her story of rescue and adventure. I was hoping to meet up with her soon but now we just might have to wait for that meeting until she returns from New Zealand!
Happy New Year from this black dog to all of you.