Okay, in the interest of full disclosure, I didn't really KISS the pig.  I know, I know, two different species acting in such a way? Well, you need to hear the whole story.
Most of our days here at the lake are really great. Mom and dad make sure I get a lot of exercise, cuddle time, multiple naps, and most days I even get to go and fetch my coconut in the lake. Really, what could be better?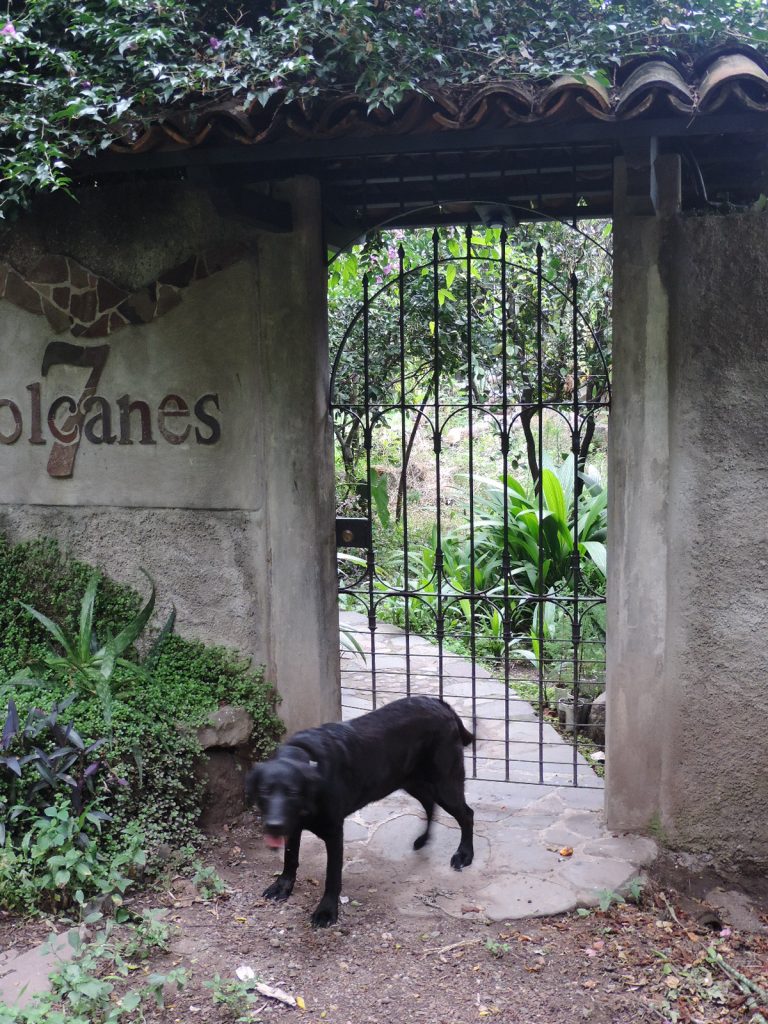 But some days are really special. On a lot of Sundays we go down to the dock. I am always overly excited, and sometimes mom gets irritated with me for pulling on the leash, but I am just SO EXCITED that I might get to get in the lake. What normally happens, though, is that we get on the boat, I think they call it a lancha, and we go to another town called San Pedro. I'm not a big fan of that town. It's a little bit big and busy for me, but the BBQ, oh the BBQ!
Each Sunday mom and dad and some of their friends go to Smokin' Joe's BBQ for lunch. There are a few other dogs roaming around, but what I like best is the food. I make sure to lie down underneath the table, right in the middle of everyone.  All of mom and dads friends know me and, in addition to the snacks mom gives me, I tend to get a few other little nibbles sent my way as well. Brisket, pulled pork, beef tenderloin, smoked chicken. Oh yea, it's a good gig for a dog. And, when we take the boat back to San Marcos, I do always get some coconut time in the lake.
An extra special treat came along a couple of days ago. We walked out to meet our friends and then all walked and walked. I got to play off leash for a lot of it which I always love but wow… the last mile or two was straight uphill. Even with four legs I was breathing hard. We got to a place called Atitlan Organics. I have no idea what the means, but I do know I got to smell so much stuff!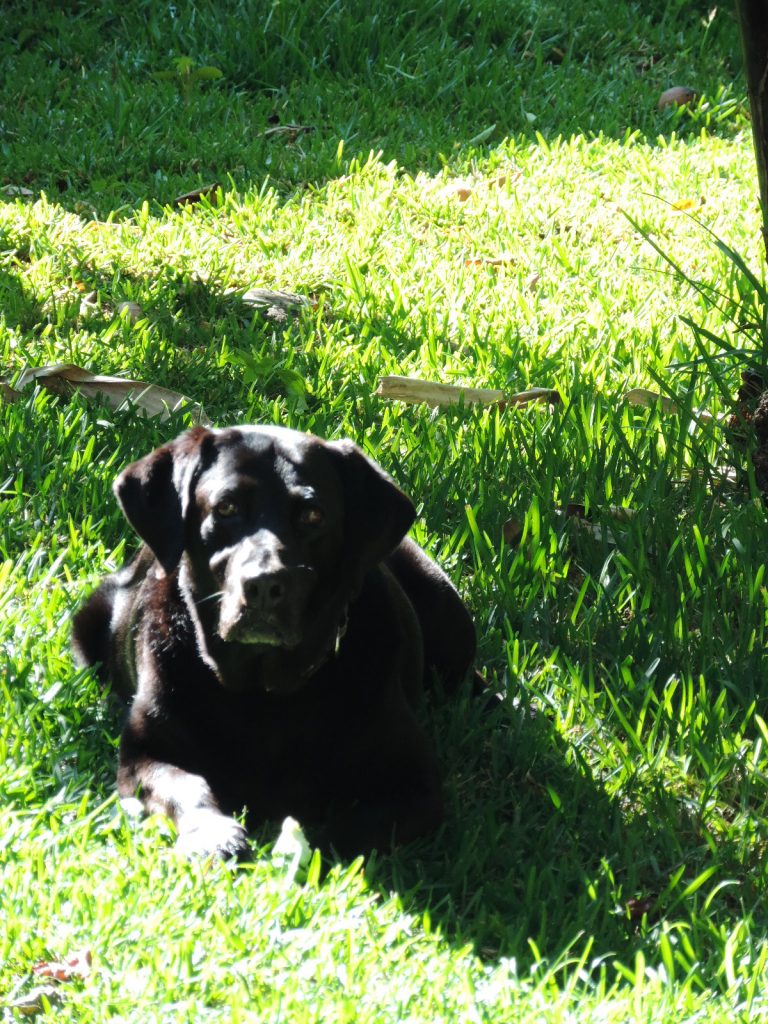 First off, there were a couple of friendly dogs there. Always a good day if I can sniff some dog butt. But then I saw the goats. First I was intrigued. That is, until I remembered that just days before I got headbutted by a not so friendly goat, so I stayed away from them. We wandered along on this farm tour thing and I peeped regularly, leaving my mark on the place.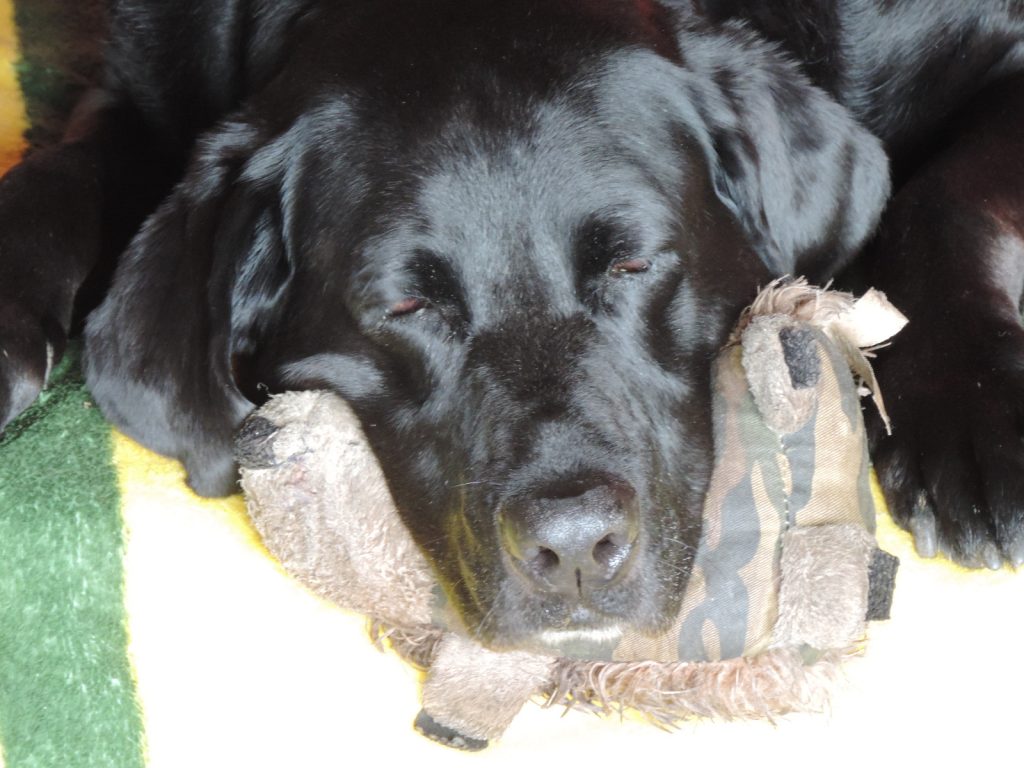 Next up were the chickens. I don't really care about chickens, but if they run I might chase them a bit. As it were, they were just chicks and not very entertaining, but I did get to play in some muddy water near their coop.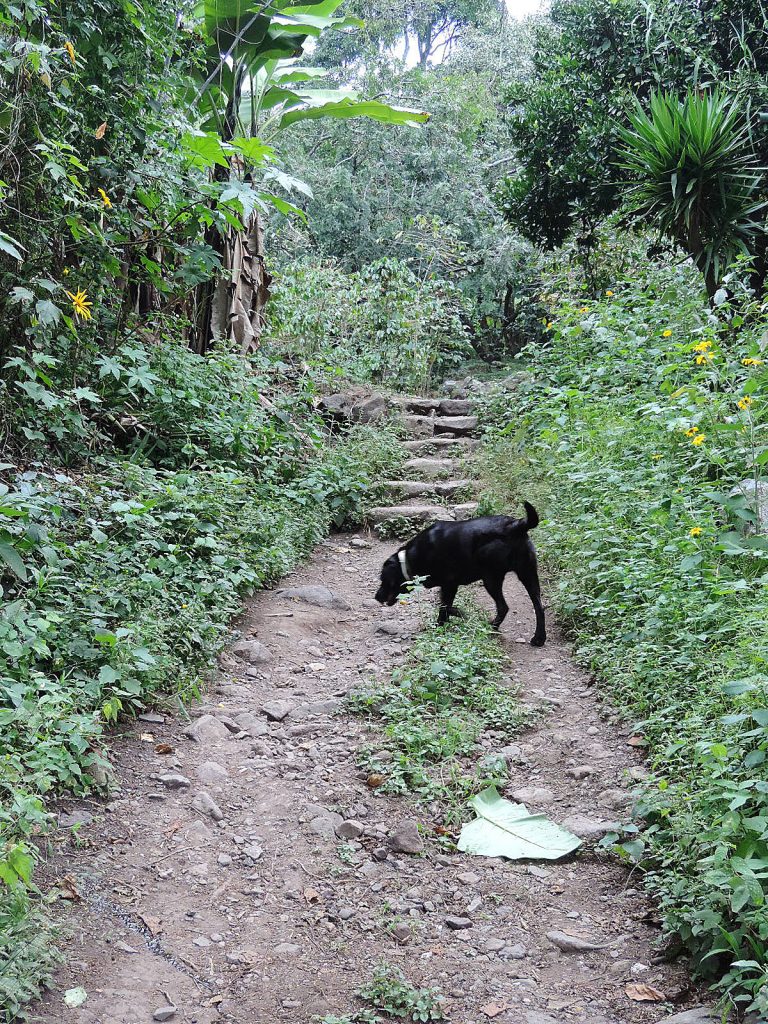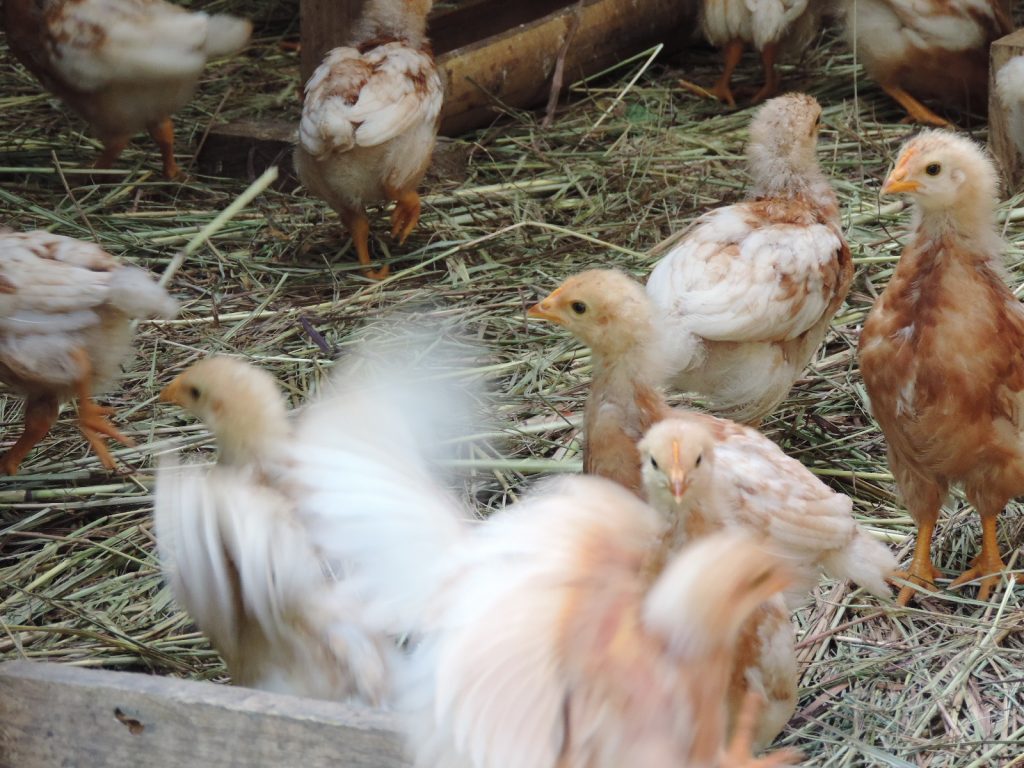 Then, it happened. A smell I had only smelled twice before. You see, back in Puerto Vallarta, one morning mom and I were walking along the beach and this man came out of the water carrying a really funny looking dog. Well, it turns out that creature was a pig. I didn't pay any attention to it because I was carrying my coconut, but I heard her telling dad that this guy took a pig swimming!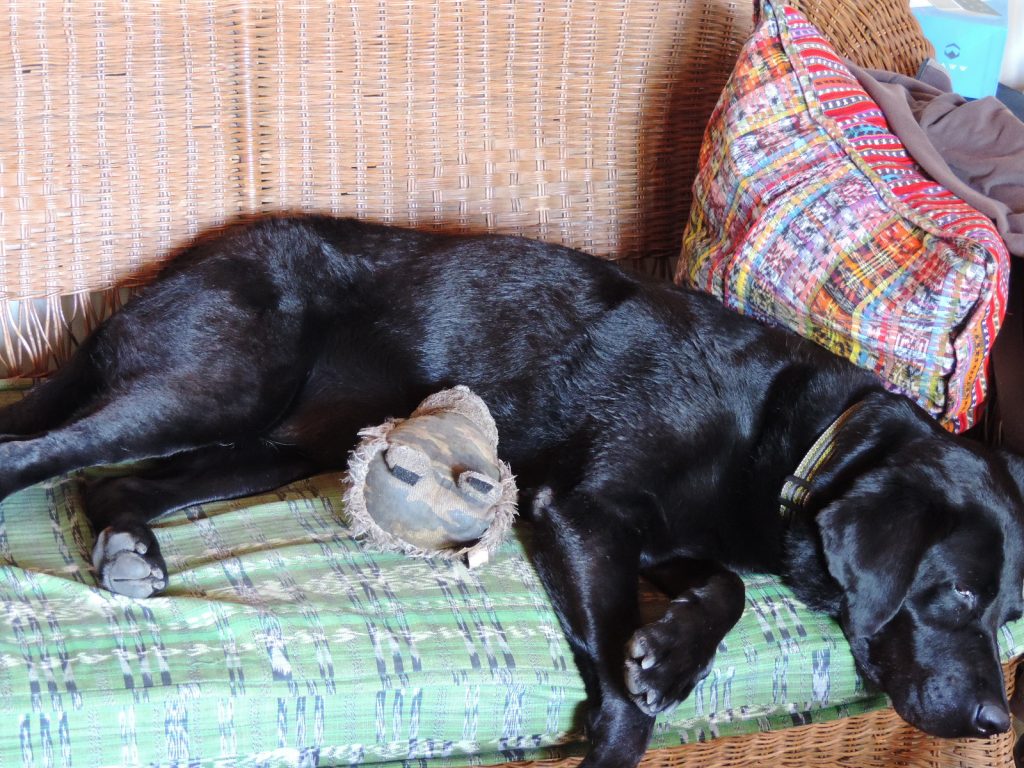 The next Mexican pig spotting was in San Miguel where this crazy woman was walking her pig on a leash downtown. Well, she was trying to walk it, but that stupid pig just squealed and pulled back. Dumb pig, doesn't it know that going for walks is about the best thing?
Anyway, that familiar scent wafted to my nose and then I heard them. This time there were lots of them, like maybe 10!! There were big ones, really big, and a few babies, and all of them creating quite the fragrance.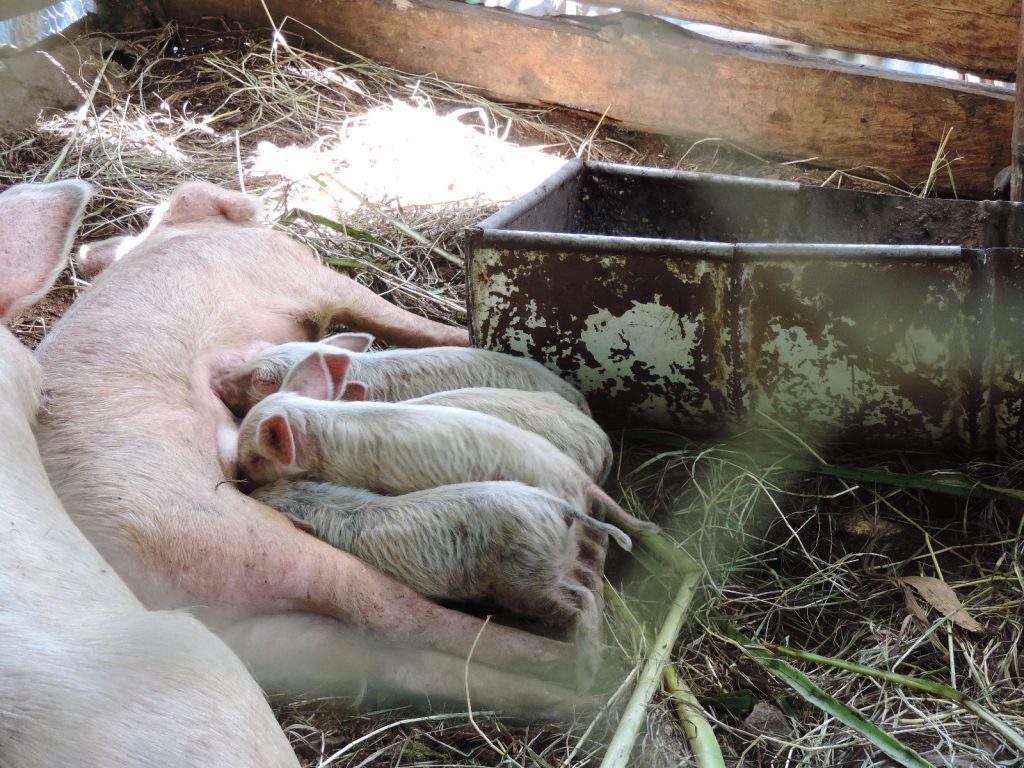 So, I was bored with this farm tour thing by then. I was hot and tired from the walk, and really just wanted a bite of lunch before a swim, but then I saw it, poking out of their fence was the strangest looking nose I'd ever seen. I got closer, then closer still. I reached my nose out to get a better whiff and kaboom… our noses touched!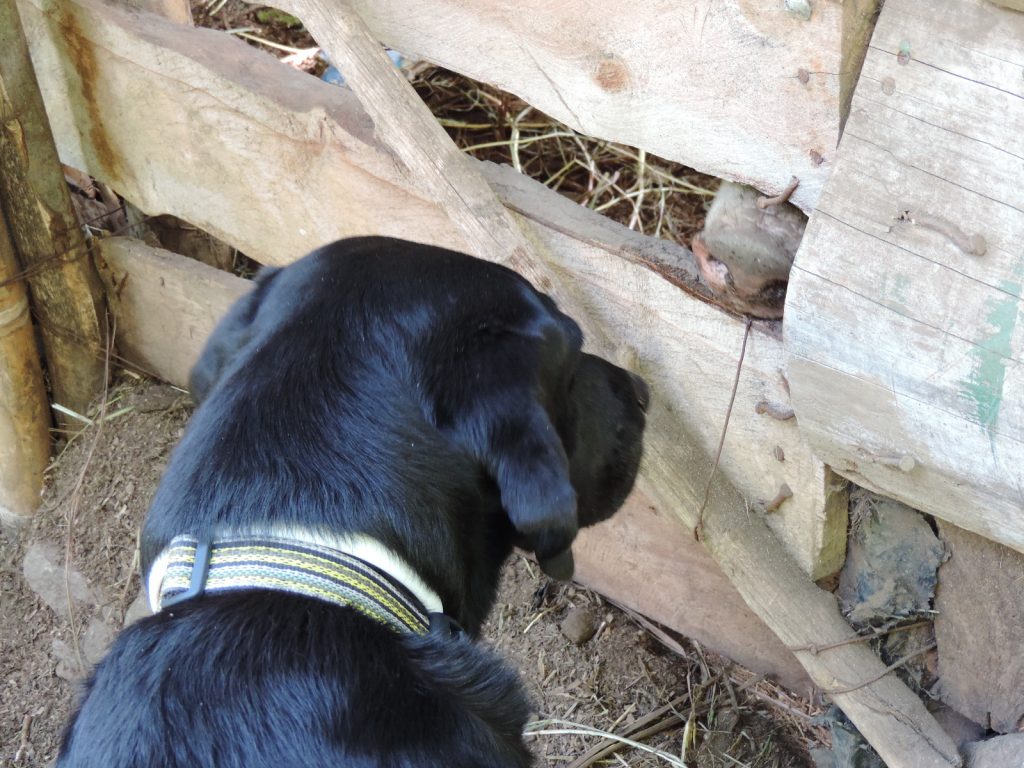 So, I guess it really wasn't much of a kiss… but I sort of liked it.