Today, I want to introduce you to Jaeger, who is traveling the PanAmerican highway as well! Jaeger and his parents Matt and Amie from The Traveling Together Journal, is only a short way behind me and so I really hope to meet him in person soon. Until then, enjoy his stories from the road.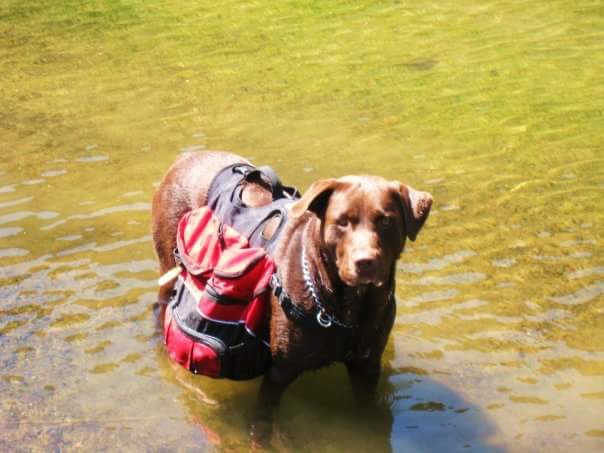 Please offer up a short blurb about who you are? Age? Who else is in your family?
I'm Jaeger. I have a few nick names Brown Bear, Old Man, and Super Senior. I'm a pretty mellow guy these days. I generally do what I want, and pretend I can't hear unless it's food time or when my family is packing up the car because I don't want to get left behind. Amie adopted me when I was 10 weeks old, and Matt joined our family when I was 9 years old. Today I'm 13 1/2 years old. Lately I have been called Super Senior a lot, because Amie was really worried that I was getting too tired to go on all the hikes they where hoping to do this winter in the Mountains of Mexico.  I was moving pretty slow, and I would not last long during walks on the beach, but that was because it was way too hot. Now we have been trying to summit big volcano peaks and I'm doing better then they are. This makes them really happy.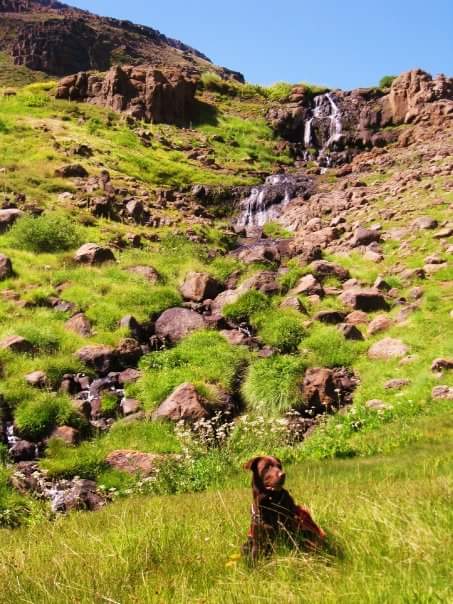 1.    Tell us a little bit about where you have traveled with your family. Have you traveled internationally? Within the US?
Amie and I moved around a lot. We started in Bellingham, WA where she was going to school. That is near Canada. I have been to Canada on lots of trips. Then we lived in Seattle. Those were some scary years for us. I was young and unneutered so I was always looking for ladies and there were a lot of cars. Lets just say I feel lucky to have made it this long. Then we moved to Oregon. We lived in Bend, Oregon and went hiking and camping with our friends all the time. Those were some good years! Then we went to the coast of Oregon and I loved playing in the cold waves on the beach. Amie got tired of the cold water and wanted to go to some school over there, so we flew to Maui. Maui was alright. Amie seemed happy, and her friend Matt , that she met in Nicaragua on a long trip moved in and we all did as much hiking as they could find on that little Island. They even took me to the Island of Molokai, because there was a ferry to that Island and I only had to go in a crate for a couple hours. Now we are driving through Mexico. We started in California, and are supposed to be going to Panama, but Matt must be lost because he's been driving back and forth and in circles. It's OK with me though as long as we keep doing fun stuff.
2.    What is your favorite place to travel? Do you like hiking the mountains? Running on the beach?
I really loved Bend, Oregon. Amie had a couple good friends that had dogs too and we would all go do fun stuff all the time. I love hiking when the weather is cooler. This last summer on the beaches of Mexico was tough, and I'm not looking forward to "surf season" in Central America. I'm too old for this crap. I do really love it when we play with my chuck-it in the ocean waves, but as I get older the waves can really work me and I'm much more apprehensive these days.
3.    When you're traveling do you camp? Stay at hotels? Rent houses?
We have never rented a house, but there talking about it. We camp in our homemade camper most of the time. They made me a special box that has a nice bed on top. It has storage underneath, but my favorite part is my head is at window level while I'm laying down. I just rest my head on the window ledge and smell the breeze while sliping in and out of sleep. We stay at a lot of camp grounds. Some are fun, some are lame. We have stayed at a few hotels when it's getting late at night and we start to get nervous about trying to find a place to camp. Everywhere looks sketchy at night.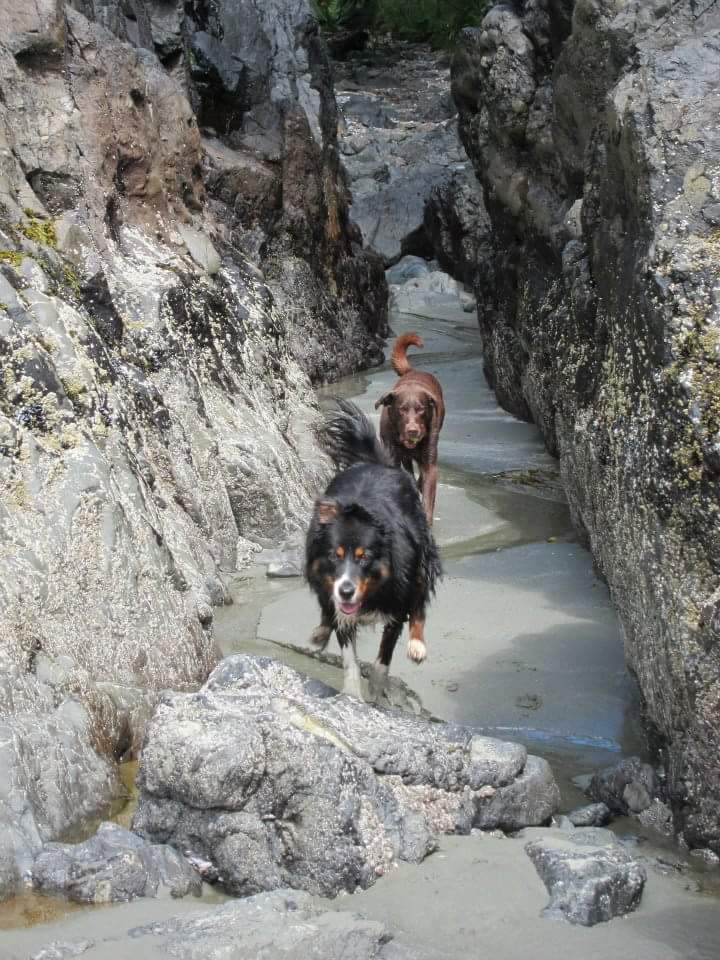 4.    Do you have a hard time finding good quality food and water on the road?
Food can be tough. I have had a lot of different foods since we have left. I love it! Although it makes me a little gassy. Matt and Amie hate going into the city. Stresses them out, but they go to try to find me good food. They love when there are Costco's. They used to feed me really good stuff back in Maui, but Costco is the new really good stuff that the budget can afford. This last time they bought two bags because the internet said there are no more Costco's. Water, well I drink out of anything I like. They also have a pretty sweet water purifier Jerry can, so I always have clean water if I want. Even on hikes I know how to drink from the Camel Pack too.
5.    Have you had any problems with other dogs, either playing at dog parks, or street dogs when traveling?
Like I said before. I'm a pretty mellow guy, but there have been some really mean dogs. I'm old and my hips give out when I try to defend myself, but Amie is like a Mother bear protecting her cub when they start to beat me up. I get worried she is going to get hurt. Sometimes on walks she picks up a stick just to be safe.
6.    What don't you like about traveling? A different bed? Strange water?
I don't like the really hot days on the beach as much as I like the cold mountains. I also get pretty nervous that I might get left behind when I see Matt and Amie packing up the car. Oh and what is with all the fireworks? I hate those. They're everywhere and they are really scary. The rainy season had a lot of thunderstorms and I did not like that either.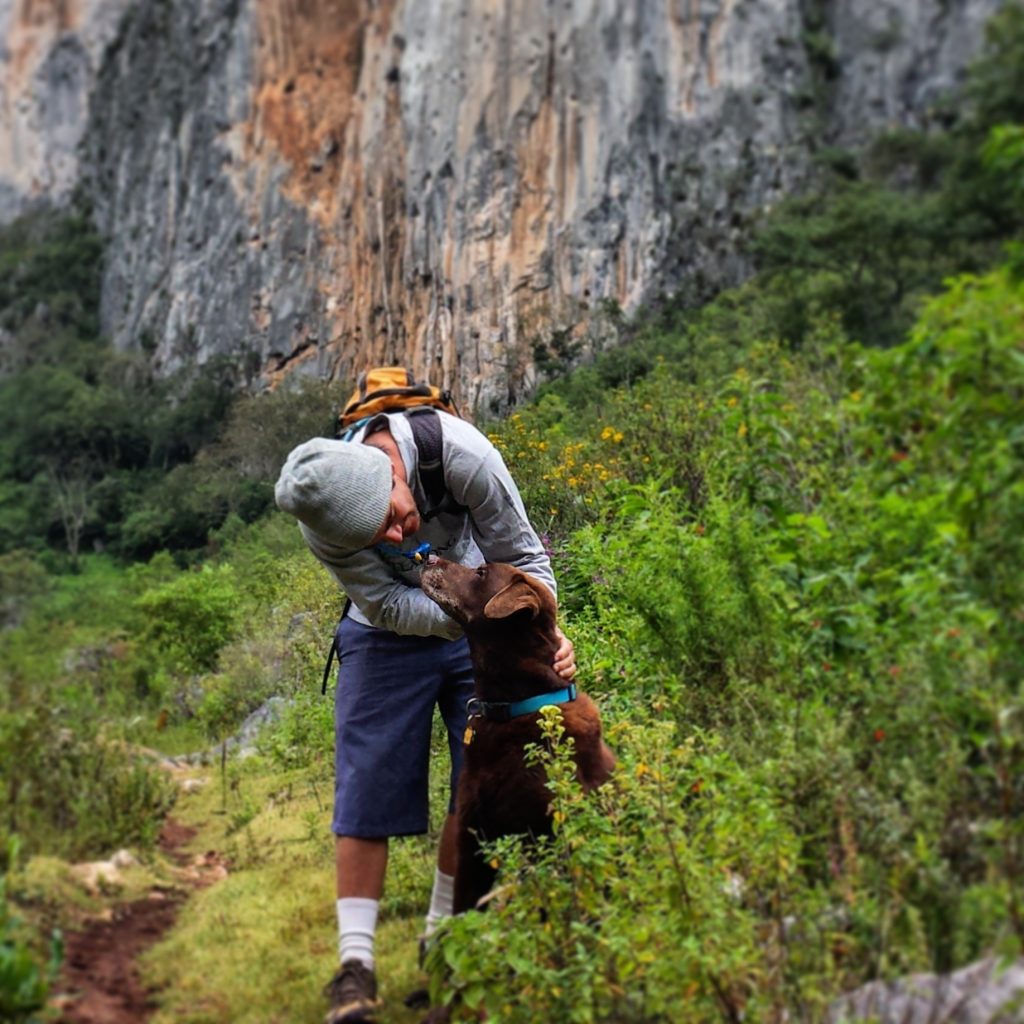 Well it was really nice talking with you. Hope this helps other four-legged travelers.
Check us out. We have a YouTube channel The Traveling Together Journal. Right now it's just a bunch of videos from the Hawaiian Islands that they made to learn how to make movies, but Matt and Amie are always filming. They should have some travel episodes up in a couple months.
We have a webpage too:
And Instagram account: @the_traveling_together_journal
Thanks so much, Jaeger, for sharing your story. Keep enjoying the coolness of the mountains and I hope to get to sniff you soon.
Aspen